This course is for the players who would like to improve their level of doubles play by learning and training in a structured way for 12 months.
It is my first attempt to produce a 12 month structured doubles training program.
This course covers on how to do all the key skills in doubles, how to practice these skills and how much each day these skills should be practiced in order to make significant improvement in 12 months. Every month the intensity and volume of training will be increased.
If you manage to complete this 12 month course, your level of playing doubles will be significantly improved. Unless you are really serious about improving your level and you do not mind taking pain from the intensive and extreme hard training this course may be too much for you.
But if improving your level is the first interest in your life at this moment, then this is the course for you. I am putting all 50 years of my coaching experience and my knowledge in this course. If there is NO PAIN, there is NO GAIN. To become an outstanding player, you need to take extremely painful training. But if you love badminton, all these extremely painful training becomes extreme happiness and pure enjoyment.
Your Instructor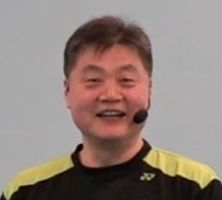 LJB Badminton Club Founder Dr. Lee Jae Bok
Playing Profile
Korean National Doubles Champion 1979
Korean National Singles Champion 1980
Korean National Mixed Doubles Champion 1981
Coaching Profile
Korean National Team Coach 1986-1987
British Olympic Team Coach 1990-1992
English National Team Coach 1990-1992
English National Team Coaching Adviser 1993
English National Men Singles Coach 2005-2007
7th World Badminton Coaching Conference Speaker 1991
10th World Badminton Coaching Conference Speaker 1997
13th World Badminton Coaching Conference Speaker 2003
European Badminton Coaches Conference Speaker 1998
European Badminton Coaches Conference Speaker 1993
Hong Kong Badminton Coaching Conference Speaker 1992
Malaysia Badminton Coaches Conference Speaker 1997
Austrian Badminton Coaching Conference Speaker 1992-1995,1999
"Coach 98" Coaching Conference Opening Speaker 1998
KBS (Korean National TV) Badminton Commentator 1999-2003
"Service to English Badminton" Award Received 1996